1991 Lotus Elan M100
It was my reliable daily driver for several years and I only stopped using it for that when I got my Elise.
Lotus cars are always extremely fun, but this one is a lot more comfortable and a lot more safe than most Lotuses thanks to GM investing in making a car they'd be happy with for mass production.
39,000 Miles
I also have the original keychain, dealer promotional pack and press pack for the car.
It's had dealer maintenance and the following non-scheduled items:
Shift cables replaced and upgraded to new metal end variety (by previous owner)
Cam Angle Sensor replaced (All US Elans got a defective unit from Isuzu)
Timing chain replaced
Secondary water pump replaced
The mechanicals were just refreshed at the local dealer last Summer.The following are items that still need work:
It could use a good detailing (it was a daily driver) but I'll get that done if we can agree on a price.
One rear tire is not the correct model (It is the right size/type but wrong brand))
One seat belt retractor is sticking
One dashboard light is loose
The bumpers could use a touch up. (There is some paint missing that's estimated to be about $300 to repair). This is all shown in the detail pictures
click here for non-beauty shots
* More questions: click to send email
M100 Elan Specifications: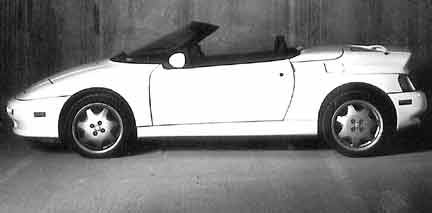 Engine:
1.6 litre(1588 cc), in-line 4-cylinder, 16 valve, DOHC, turbocharged "Isuzu-Lotus" engine with sequential multi-port electronic fuel injection. Bore/Stroke: 80.0mm/79.0mm, with 8.5 to 1 compression, transversely mounted
Transmission:
5-speed manual
Steering:
Rack and pinion with power assist
Chassis/Body:
Steel backbone chassis bolts rigidly to body shell structure and incorporates rear suspension mounting points. Front underframe bolts onto front of backbone frame and incorporates front suspension mounting points. Multi-piece bonded, riveted, and bolted GRP and steel composite structure.
Front Suspension:
"Interactive Wishbone": - interactive by unequal length wishbones, coil springs and dampers, and anti-roll bar.with the entire suspension system dynamically attached to the front "raft" subrfame.
Rear Suspension:
Independent by upper links and lower wishbone, coaxial coil springs and dampers, and anti-roll bar.
Brakes:
10" diameter ventilated discs in front, 9.3" diameter solid discs in rear
Wheels/Tires:
Aluminum alloy 16" and Goodyear GS-D
Dimensions:
Length: 381 cm
Width: 171 cm
Height: 123 cm
Wheelbase: 225 cm
Tread f/r: 149 cm/149 cm
Weight: 1025 kg
Fuel capacity: 47 L
PERFORMANCE:
Maximum Power 162 bhp (SAE) @ 6600 rpm
Maximum Torque 148 lb-ft @ 4200 rpm
Maximum Speed 137 mph
0-60 in 6.7 seconds
Coefficient of drag: .34
Standard Equipment:
Leather-rimmed steering wheel, allow wheels, central power door locking, electric windows, electronically-adjustable and heated door mirrors, leather upholstery, bronze-tinted glass, remote fuel-filler door release, AM/FM cassette with power antenna, air conditioning, laminated windscreen, driver's side supplemental restraint system (airbag)
EPA Fuel Economy:
City Driving 24 mpg, Highway Driving 31 mpg